Meeting
The Grand Hotel des Alpes, located in the heart of Chamonix, offers two meeting rooms to organize your seminars, your professional meetings or your team building to strengthen the team spirit. You can enjoy the atmosphere of the city center while being in the heart of a wonderful nature.
To allow you to fully enjoy your stay, we will take care of the organization of your sport, leisure and relaxation activities... and to delight your taste buds, we will reserve the best restaurants every evening.
Meeting Rooms
Our new Edelweiss meeting room of 40 m², with its extra reception area of 20 m², all lit by daylight, can accommodate 22 people with a «U shape» table, up to 28 people in school configuration and 40 people in theatre style. Our 80 sqm Mont-Blanc lounge, lit by daylight, enjoys a terrace with views of the Mont-Blanc and the torrent. Once converted into a meeting room, it can accommodate a maximum of 15 people in a "U shape" configuration or 30 people in theatre style. By privatizing the hotel with its 30 rooms, the 2 meeting rooms will be at your entire disposal.
Buffet/Lunches
You will have free access to the garden overlooking the torrent and the Mont-Blanc range. The buffets/lunches will be personalized according to your wishes and will be served to you on our terrace in the garden with beautiful sunny days or indoors in our living room on more "humid" days.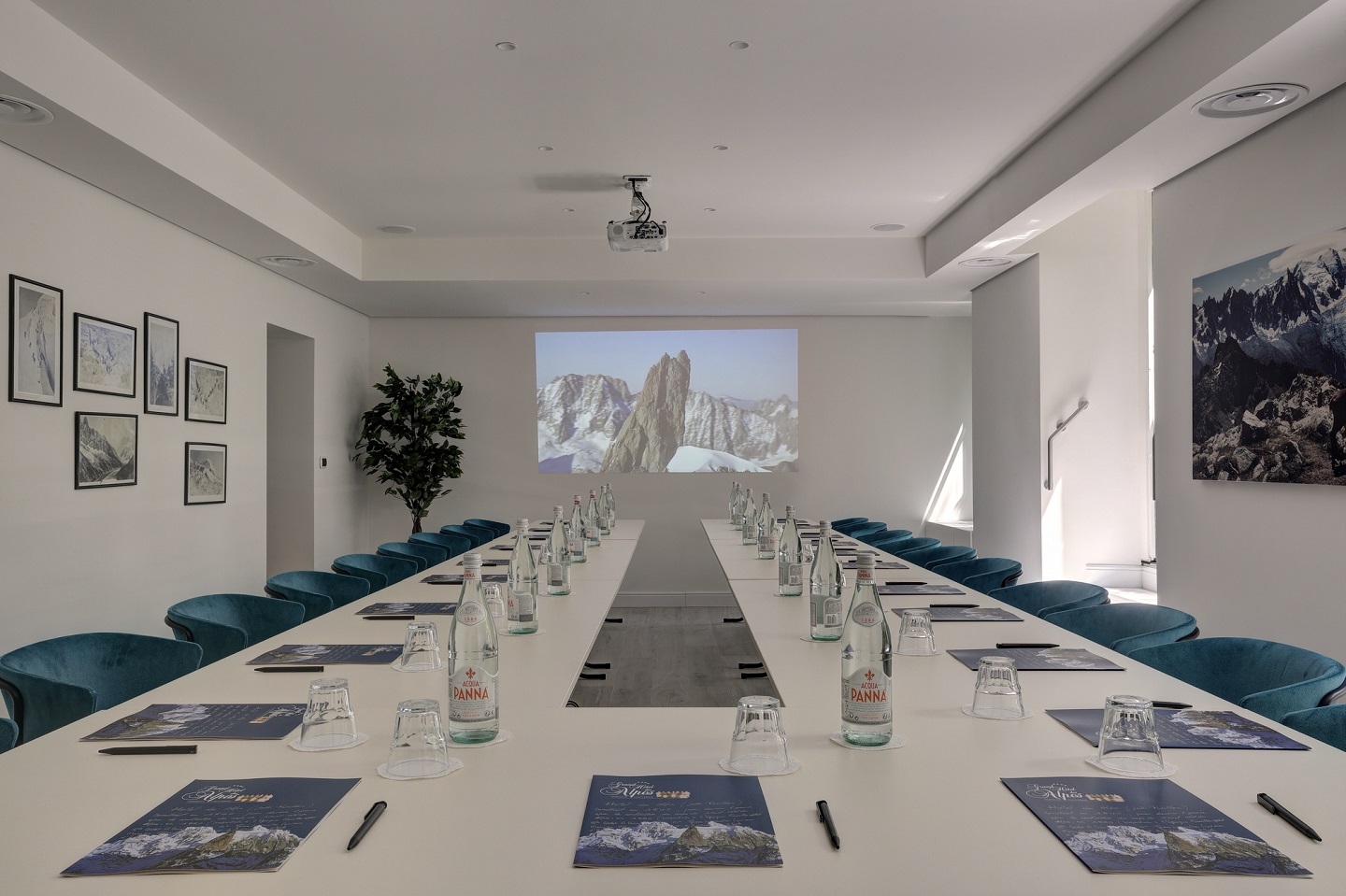 Team building
To better develop a team and corporate identity, working days can be completed with relax and entertainment activities with your colleagues.
We offer the opportunity to arrange snow activities: skiing, snowshoeing, hiking, Nordic walking, climbing, mountaineering, electric cycling, rafting, paragliding and wine tasting.
The equipment
Internet access, wifi, Projector, Paperboard with felts, Notepads and pens, Screen, Printer and photocopier, Water bottles on the tables, Free parking/garage, Reservation service dedicated to your events, Organisation of external activities, View of the Mont-Blanc range, the torrent and the garden, Buffet-style catering for lunches and every, evening reservations at the best restaurants in Chamonix located just a few steps away, Access to the pool and relaxation area Do not hesitate to ask for all the information you need to organize your seminars, we will always be at your disposal! Tel +33 (0)4 50 55 37 80 e-mail
info@grandhoteldesalpes.com